Santa Ana Star Sportsbook Review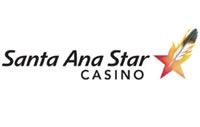 Santa Ana Star Casino Hotel

Address:

 54 Jemez Canyon Dam Road, Bernalillo, NM 87004

Phone:

 505-867-0000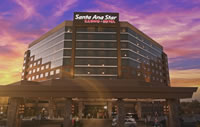 Like every current Santa Ana Star sportsbook review, the big news – and big draw - to the venue is the fact that they finally have legal sports betting available to their hundreds of thousands of annual customers from New Mexico and throughout the rest of the southwest. Unlike most other states to offer legal sports betting in the wake of the Supreme Court's overturn of PASPA (the Professional and Amateur Sports Protection Act of 1992), New Mexico didn't actually pass any local laws legalizing the practice inside its borders. Instead, the Pueblo of Santa Ana tribe simply found implicit authorization in their state gambling compact, and – given de facto authority to operate a Las Vegas-style sportsbook – that's exactly what they did.
While it is possible that New Mexico will try to pass specific sports wagering regulations going forward, NM has not legally challenged the Santa Ana Star's rights to open their sports betting services to the public. And so far, every Santa Ana Star sportsbook review to hit the wire has lauded the venue's thoughtful, competitive, and robust sportsbook offerings.
Is The Santa Ana Star Sportsbook Open For Business?
Yes, the Santa Ana Star Sportsbook is open for business! In fact, the Santa Ana Star Casino Hotel was the first post-PASPA venue in the southwest to offer sports wagering, where the pastime launched on October 16, 2018.
The Santa Ana Star sportsbook is open every day, though its hours change during the course of the year to reflect the traffic that current league schedules allow for. Generally speaking, this New Mexico sportsbook will be open during the following hours (which every honest Santa Ana Star sportsbook review will quickly point out are some of the most accessible and longest hours offered by any non-Vegas sportsbook anywhere in the country):
Santa Ana Star Sportsbook Hours Of Operation:
Monday: 8 AM – 12 AM
Tuesday: 8 AM – 12 AM
Wednesday: 8 AM – 12 AM
Thursday: 8 AM – 12 AM
Friday: 8 AM – 1 AM
Saturday: 7 AM – 1 AM
Sunday: 7 AM – 12 AM
The Sports Betting Lounge At The Santa Ana Star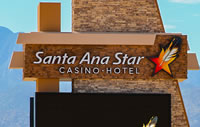 Most casino venues that are currently transitioning to sports wagering are renovating areas of their existing gambling floors to offer a dedicated place for patrons to enjoy the pastime. The sports betting lounge at the Santa Ana Star is located in the facility's Lounge 54, a full-service bar featuring high-end cocktails and beers from all over the world. If you wish to wager on sports while you eat, you can place your bets and then watch the games unfold from the Cantina Rio, where you can order classic American grub as well as New Mexican specialties. Unlike most casinos, the Santa Ana Star also allows you to watch the day's athletic contests from your seat at any of their many table game locations throughout the site.
Does The Santa Ana Star Offer Full-Service Sports Betting?
Absolutely. The Santa Ana Star offers full-service sports betting on the premises. This is sometimes referred to as "single-game sports betting," but this is a misnomer, as you can wager on a huge selection of games from all over the US (NFL, MLB, NBA, NHL, NCAA, NASCAR, etc.). You can also bet on sports at the international level, on popular activities like soccer, cricket, rugby, and more. Additionally, you aren't ever limited to betting on just one contest at a time at the Santa Ana Star, as you are allowed and encouraged to build your own valuable, high-reward parlays.
Bet types you can expect to see at the Santa Ana Star run the gamut, and it includes classics like straight moneylines, spread bets, and totals (aka over/unders) as well as player props, team props, futures, and specials, all updated several times a day in keeping with the betting trends of the public.
What Is The Legal Age To Bet On Sports At The Santa Ana Star?
The legal age to bet on sports at the Santa Ana Star Casino Hotel is 21, which is how old you have to be to use any casino facility – tribal or commercial – in New Mexico. (While you only have to be 18 to use legal offshore sportsbooks that serve New Mexico residents, it's advised that – since NM now has an established sports betting standard in the state – you stick with the state's laws and only sign up for such a service once you're at least 21 years old.)
Live Sports Betting At The Santa Ana Star
Live sports betting at the Santa Ana Star works as it does in most casinos: you wager on a game while it's being played, and the betting boards update dynamically to reflect the new odds per the events that have already unfolded. Live sports betting – also called in-game betting – is one of the most popular ways to wager on sports, and savvy bettors can use it not only to double up on good bets to increase their bankrolls, but also to reduce losses on bad bets once a new trend establishes itself during the game in question.
Does The Santa Ana Star Sportsbook Have Mobile Betting?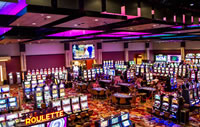 Right now, the Santa Ana Star sportsbook does not have mobile betting or online sports betting, and per the terms of the tribal compact governing Indian casino operations in New Mexico, neither of these will be available until the state congress passes a law explicitly allowing such. However, it's only a matter of time before that happens, given the huge profit and tax revenue potential that would surely be opened up via widespread online New Mexico sports betting.
As a result, and as every honest Beau Rivage sportsbook review points out, if you live in Mississippi and wish to wager on sports while traveling outside the state, you can only do so by using a legal offshore sportsbook. Indeed, using such books in these cases will be your best bets going forward, as proxy betting is simply not an option.
Does The Santa Ana Star Have Proxy Betting?
As a traditional workaround of 1961's Interstate Wire Act, proxy betting allows out-of-state residents to place wagers at brick-and-mortar sportsbooks via third-party representatives, all without actually being in the state as required by law. However, because of the legal grey area of the practice, the Santa Ana Star does not have proxy betting.
If you live in New Mexico and wish to wager while traveling elsewhere in the US or the world, you will have to use a legal offshore sportsbook in order to place your bets. Of course, once mobile and Internet wagering come to New Mexico, no Santa Ana Star sportsbook review will knock the venue for failing to offer this service, as online wagering is far more convenient and far-reaching than proxy betting could ever be.
Top New Mexico Sports Betting Sites
Rank
Online Sportsbooks
Bonuses Offered
Rating
US Players?
Play Now!